Diagnostic tests are a means to rule out or confirm conditions and diseases through different medical processes. CT Scans and MRI Scans are two of the most vital and known diagnostic tests that provide detailed images of internal body parts, like organs, bones, and joints.
A wide range of medical conditions can be diagnosed by both scans. Though both, CT Scans and MRI Scans have similar uses, their methods of creating images are different. Strong magnetic fields and radio waves are used by MRI scans whereas CT Scan uses X-rays.
In terms of prices, MRI Scans tend to be more expensive than CT Scans and are less common than CT Scans. Let's look at the differences between CT Scans and MRI Scans, in terms of their uses, safety, and procedures, below.
What are CT Scans and MRI Scans?
Both CT scans and MRI scans are sort of non-invasive diagnostic tests which create detailed images, allowing doctors to see internal body parts to analyze and detect abnormalities in those body parts, like tumors ln organs, joint damage, fractures, etc.
CT scan is also referred to as CAT scan, i.e. Computerized Axial Tomography, by some people. CT Scan requires a person to lie down in a large X-ray machine, known as CT Scanner, which sends the X-ray images to a computer.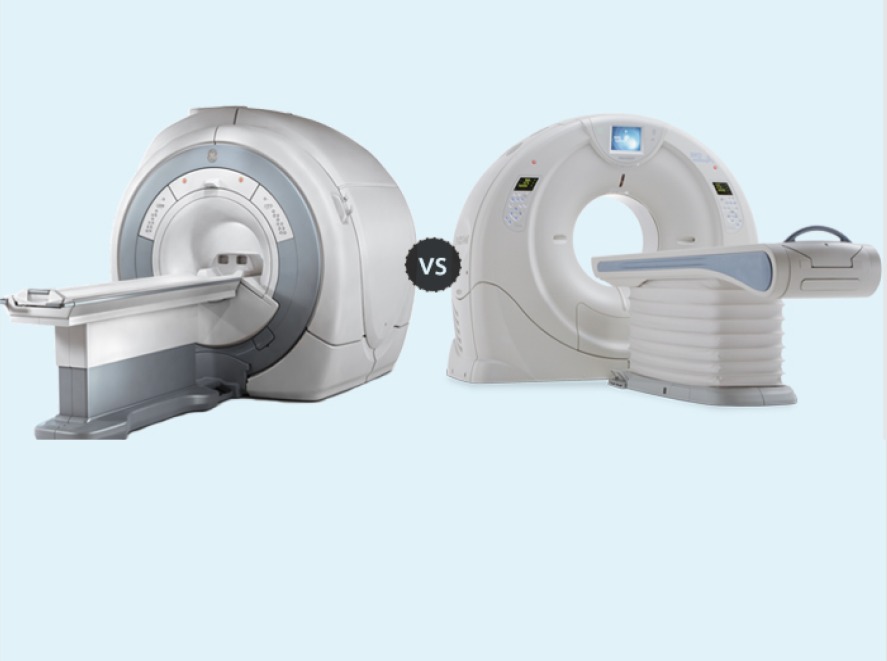 Magnetic Resonance Imagery or MRI scan generates images using radio waves and magnets. Here too, a person has to lie down in a machine, known as MRI Scanner, which creates a constant magnetic field and bounces off water molecules and fat cells in the body through radio waves, and then the images are sent to a computer for further processing.
CT scans are more common and less expensive than MRIs. However, MRI scans produce a better image than CT scans.
What are the uses of CT Scans and MRI Scans?
Though uses of CT scans and MRI Scans are somewhat similar, MRI Scans are more expensive, less common, and provide even more detailed images.CT Scans on the other end, are less expensive and more common and provides good details.
CT Scans' uses may include examination for :
• Internal Bleeding
• Bone Fractures
• Tumors
• Development of cancer and treatment response
• Internal Infections
More commonly, MRI Scans are used by doctors when the issues with bones, organs, and joints, or those affecting :
• Heart
• Joints
• Breasts
• Wrists
• Blood Vessels
• Ankles
• Brain
Both, CT Scans and MRI Scans require the person being diagnosed to lie down on a scanner bed that moves the required body part of the body into the scanning area. For clear images, the person is required to remain very still.
The technicians conducting the scans, leave the room during scans and communicate to the person being diagnosed via through intercom link from the console room. Several X-ray images of the body are taken from different angles by the CT Machine, which relatively does not make much noise compared to MRI Scanners, which are quite noisy. The person being diagnosed may be offered earplugs or headphones to help dull the noise of the MRI Scanner.
What about safety?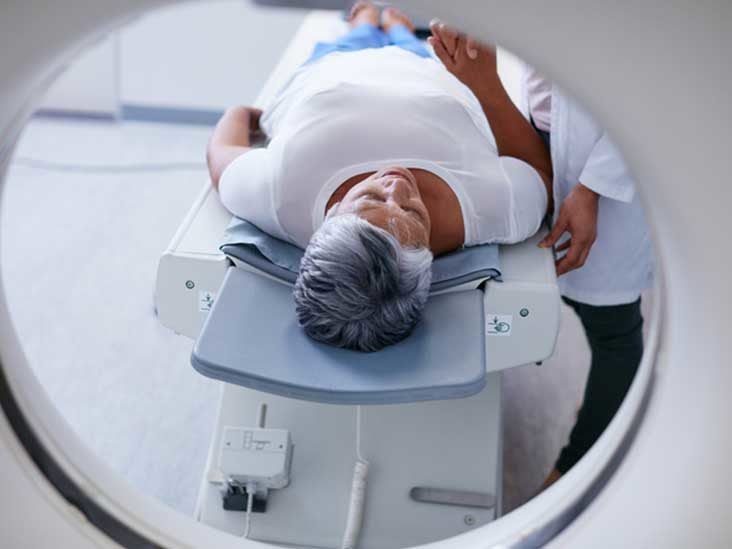 Though they may pose slight risks, differing between the sort of scans, both CT Scans and MRI Scans are quite safe procedures.
The person being diagnosed with CT Scan receives small doses of radiation, which generally isn't considered harm
A person receives a very small dose of radiation during a CT scan, but doctors usually do not consider this harmful.
Ionizing Radiation is used by CT Scans, which can potentially affect biological tissues, though according to the National Institute of Biomedical Imaging and Bioengineering, there is very little risk of developing cancer from exposure to such radiation.
During pregnancy, CT Scans and X-rays are not considered to be safe, therefore, doctors may recommend MRI Scans or ultrasound scans. Though, especially during the first trimester, as a precaution, MRI scans may still be avoided.
If there are any medical implants, such as insulin pumps, cochlear implants,s or pacemakers, the person being diagnosed with MRI Scan must inform of their implant to MRI Technician because MRI scans may not be using radiation but they do use strong magnetic fields.
Loud noises are produced by MRI Scans, so people being diagnosed with MRI Scans generally use earplugs or headphones for noise cancellation. People with claustrophobia may find MRI Scans hard to tolerate, although, to get around this problem, several types of Open MRI Scanner exist now.
Sometimes, some people may not have a very good reaction to certain types of dyes, which the doctors may recommend to make the images more contrasted, in both CT Scans and MRI Scans.
CT Scans or MRI Scans? Choosing the right scan.
First of all, it's the doctor's job. The doctor recommends the most helpful and effective imaging procedure based on a range of factors like :

• The primary medical concern for the scan
• Whether the person being diagnosed is pregnant or not
• If the person being diagnosed is claustrophobic or other problems that may make MRI scans unbearable
• The number of details that are required in the scanned images
• MRI Scans may be used when more detailed images may be required. Problems of soft tissue damage, herniated disks, and torn ligaments are easier to be diagnosed by MRI Scans.CT Scans may be used by doctors to diagnose, pinpoint the location of tumors, infections and blood clots, muscle and bone disorders. Detect and monitor medical conditions and diseases like cancer, lung modules, liver masses, and heart diseases, internal injuries and fractures, etc
Conclusion
CT Scans and MRI Scans are two of the types of non-invasive diagnostic services, used for diagnosing internal body parts. Used of both the scans are somewhat similar but the ways of producing pictures differ. MRI Scans use strong magnetic and radio waves, on the other hand, X-rays are used by CT Scans.
Depending on a variety range of reasons, a doctor may suggest whether to go for MRI Scan or CT scan. Both have risks but are relatively safe procedures, where a CT Scan is generally good for larger areas while an MRI Scan generates a better overall image of the tissue under examination.
Diagnostic Testing in North-east Delhi, Delhi.
We are a diagnostic centre and laboratory providing clinical solutions like CT Scan, Mammography, Digital X-ray, IVP, HSG, ECG–EEG, TMT, 4D & 5D Ultrasound, PFT, All types of Blood Tests, etc. We promise quality, we deliver it. Deep Medical Centre's foremost focus has always been to maintain the highest standards in testing and hygiene, resulting in a high level of satisfaction of our more than twenty thousand patrons and being the fastest growing laboratory in Northeast Delhi.
Our compassionate highly qualified team of radiologists and assistants have a gentle, caring manner and a feeling of family care because we keep our all empathy with not-so-good times that you or your family member may be going through, to require a diagnostic test.
If you have any questions about our imaging services, call Deep Medical Centre at (+91) 931-166-1446 / drop an email at contact@deepmedicalcentre.com / just click here to open the map to our physical location or request an appointment now. We wish you and your family a very healthy smiling time.
Join us on Instagram @deepmedicalcentre , Facebook @deepmedicalcentre and Linkedin @deepmedicalcentre for healthy tips and general medical knowledge.