Well let's be honest with ourselves, when it comes to sexual topics, we are not being educated well, and when that happens myths find a very strong place in society. That's why in this article let's discuss 6 common myths about pregnancy.
Once we enter the pregnancy phase, almost everyone comes up with their dos and don'ts. However, not all such beliefs are true. In this article, we will discuss six common myths about pregnancy.
Myths About Pregnancy: No. 1 – "We should start Eating for two now!"
Pregnancy indeed increases the body's need for calories and nutrition, but that doesn't mean we should double up the calories and specific nutrients we may need. We don't need any extra calories during the first trimester. Specifically, we need 300-340 extra calories per day above the natural nutritional intake in the second trimester and 400-450 extra calories each day in the third trimester of pregnancy.
On the other hand, eating way too much during pregnancy have their negative consequences like:-
•Excess weight increases the risk of High blood pressure.
•Excess weight gain is difficult to take off after the baby is born.
Myths About Pregnancy: No. 2 – "We must Avoid Exercise!"
Exercise is good for us during pregnancy. Also, it is not dangerous for the baby. We need to be physically active during pregnancy. While pregnancy, one should get 20-30 minutes of moderate-intensity exercise four or five times a week. It will result in better pregnancy outcomes and shorter labor.
Also, there are some warning signs to avoid exercising and contact a doctor when we may witness: Chest pain, Vaginal bleeding, uterine contractions, headache, fluid leaking from the vagina, increased shortness of breath, dizziness, or feeling faint.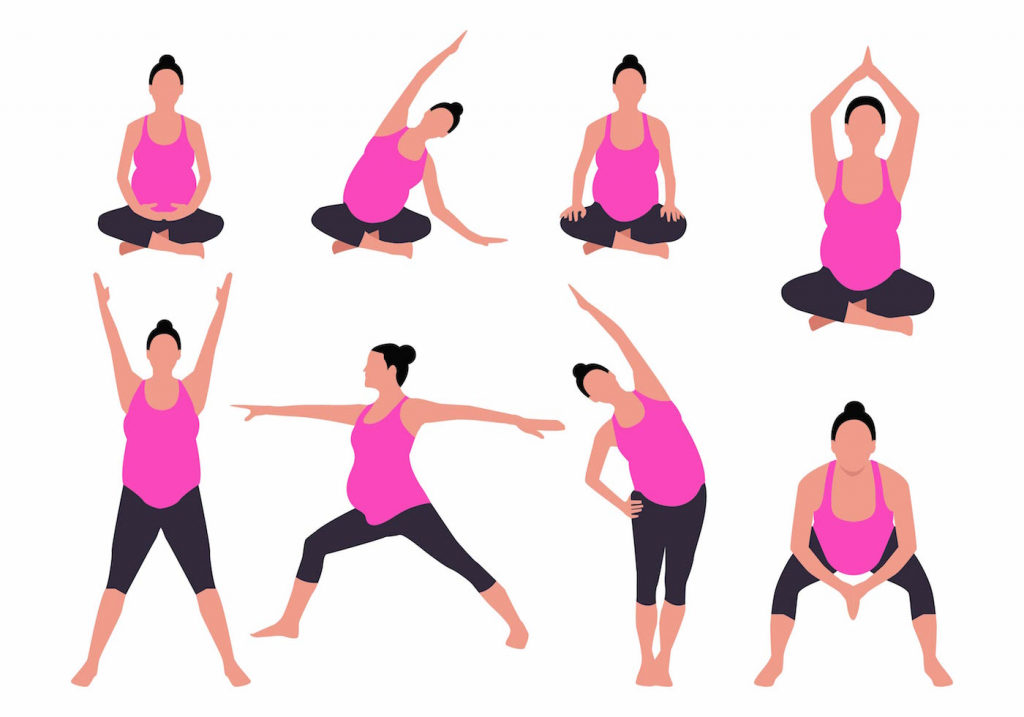 Myths About Pregnancy: No. 3 – "Spicy foods might help us go into labor."
Some people believe that spicy food causes contractions as it stimulates our digestive system. The truth is that spicy food does not affect our chances of inducing labor in natural conditions.
Myths About Pregnancy: No. 4 – "We should avoid sex during pregnancy!"
Sex can at times lead to premature labor. It is wise to take some precautions in such cases. Using condoms during sex is a safe way to avoid untimed labor.
Myths About Pregnancy: No. 5 – "Various ways by which We can predict if it's a boy or a girl!"
•If our baby bump sits up high near the ribs, this says it might be a girl. If our belly hangs down, it might be a boy.
•If the heartbeat records at over 140 bpm, it's a girl, or else it's a boy.
•If we crave sweet stuff, it might be a girl. If we get cravings for salty snacks, it might be a boy.
Although it seems fun to try these pregnancy myths, the right way to find out our baby's sex is through medical testing like a cell-free blood screen or Fetal Ultrasound, but due to social evils, this is not encouraged.
Myths About Pregnancy: No. 6 – "Caffeine might cause miscarriage or preterm birth of the child."
Hardly any health professional says drinking a cup of coffee a day may increase our risk of miscarriage. Just Avoid beverages that exceed 200 calories of caffeine. More than two cups of coffee every day before conception increases the risk of fetal growth restriction.
Disclaimer ~ This content includes advice that provides generic information only. It is in no way a substitute for a qualified medical opinion. Always consult a specialist or your doctor for more knowledge.
Looking for the latest technology, high qualified radiologists' reported Ultrasound in North-east Delhi? Our compassionate highly qualified team of radiologists and assistants have a gentle, caring manner and a feeling of family care.
Diagnostic Testing in North-east Delhi, Delhi.
We are a diagnostic centre and laboratory providing clinical solutions like CT Scan, Mammography, Digital X-ray, IVP, HSG, ECG–EEG, TMT, 4D & 5D Ultrasound, PFT, All types of Blood Tests, etc. We promise quality, we deliver it. Deep Medical Centre's foremost focus has always been to maintain the highest standards in testing and hygiene, resulting in a high level of satisfaction of our more than twenty thousand patrons and being the fastest growing laboratory in Northeast Delhi.
Our compassionate highly qualified team of radiologists and assistants have a gentle, caring manner and a feeling of family care because we keep our all empathy with not-so-good times that you or your family member may be going through, to require a diagnostic test.
If you have any questions about our imaging services, call Deep Medical Centre at (+91) 931-166-1446 / drop an email at contact@deepmedicalcentre.com / just click here to open the map to our physical location or request an appointment now. We wish you and your family a very healthy smiling time.
Join us on Instagram @deepmedicalcentre, Facebook @deepmedicalcentre and Linkedin @deepmedicalcentre for healthy tips and general medical knowledge.