We already have an overview of infertility, and causes of infertility in both males and females, in this article, we are going to discuss some prevention and risk factors of infertility.
Risk Factors of Infertility – Prevention and Risk Factors of Infertility
There are many similar risk factors of infertility for males and females. They consist of:
Using alcohol: There is no acceptable level of alcohol consumption for women during pregnancy or conception. Alcohol consumption may be a factor in infertility. Heavy drinking can reduce sperm count and motility in men.
Concerns with exercise: Obesity raises the risk of infertility and is a result of inactivity. Less frequently, ovulation issues in women who are not overweight may be linked to frequent, intense, rigorous activity.
Age: Age-related losses in women's fertility are noticeable, especially in the mid-30s, and beyond age 37, it declines quickly. Infertility in older women is most often brought on by the decreasing quantity and caliber of eggs, though it can also be brought on by fertility-related health issues. Guys over 40 may have lower fertility than men of earlier ages.
Being too thin: Women who have eating disorders, such as bulimia or anorexia, or who adhere to a very low-calorie or restrictive diet are at risk of having fertility issues.
Using tobacco: Both partners using tobacco or marijuana may lessen the chance of getting pregnant. Additionally, smoking lowers the potential efficacy of reproductive treatments. Women who smoke are more likely to experience miscarriages. Men who smoke are more likely to experience erectile dysfunction and poor sperm counts.
Weighing too much: Being overweight and leading a sedentary lifestyle may raise the risk of infertility in women. Being overweight might also have an impact on a man's sperm count.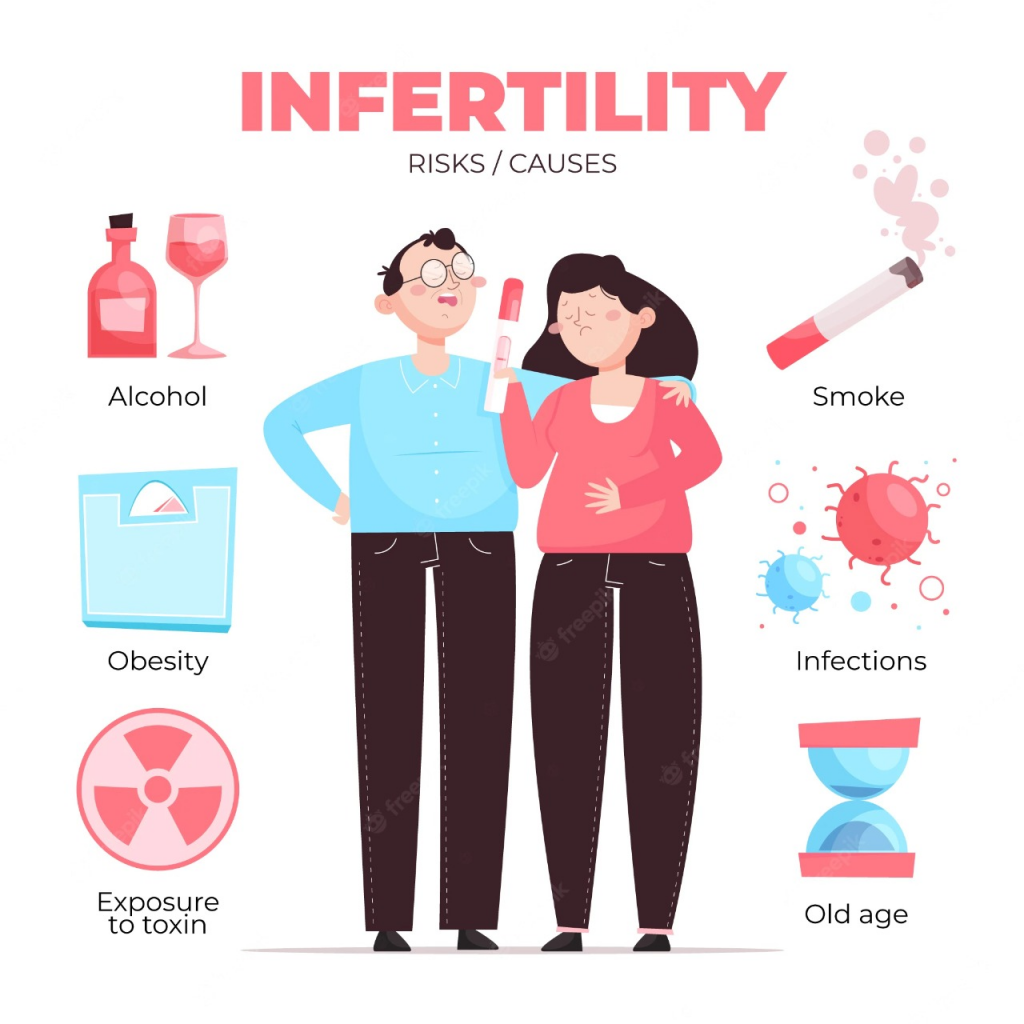 How to prevent infertility? – Prevention and Risk Factors of Infertility
Unpreventable causes of infertility include some. However, a few tactics could raise your chances of getting pregnant.
Prevention For Couples – Prevention and Risk Factors of Infertility :
For the highest pregnancy rate, engage in regular sexual activity multiple times around the period of ovulation. Our chances of getting pregnant increase if we have sexual contact at least five days prior to ovulation and for one day following it. For the majority of women, whose menstrual cycles are typically approximately 28 days apart, ovulation typically happens in the middle of the cycle or halfway between periods.
Prevention For Men – Prevention and Risk Factors of Infertility :
Although the majority of male infertility issues cannot be avoided, the following techniques may be useful:
Avoid being exposed to chemicals from the environment or from industry, as these can decrease sperm production.
Avoid using hot tubs and hot baths as their high temperatures can momentarily impair sperm motility and production.
Engage in light exercise: Regular exercise may enhance sperm quality and raise pregnancy success rates.
Limit prescription and over-the-counter medications that could affect fertility. If we frequently use any prescriptions, we should discuss them with our doctor; nevertheless, we should never cease using prescription drugs without first consulting a doctor.
Avoid using drugs, smoking, and drinking excessive amounts of alcohol, which can all affect a man's ability to conceive.
Prevention For Women – Prevention and Risk Factors of Infertility :
Several tactics for women may raise their chances of getting pregnant:
'No' to alcohol or illegal drugs: Our ability to conceive and have a healthy pregnancy could be affected by these medications. If we're attempting to get pregnant, refrain from consuming alcohol and using recreational substances like marijuana.
Avoiding extremes in weight: Our hormone production might be impacted by being overweight or underweight, which can lead to infertility.
Limiting our caffeine intake: Caffeine consumption may need to be restricted for women attempting to get pregnant. For advice on how to take caffeine safely, we should consult our physician.
Give up smoking: In addition to harming your overall health and the health of the fetus, smoking has other detrimental impacts on fertility. If we smoke and are thinking about getting pregnant, we should stop immediately.
Engaging in light exercise: While it's crucial to exercise regularly, fertility may be impacted if we exercise so hard that our periods become irregular or nonexistent.
Looking for the latest technology, highly qualified radiologists' reported HSG in northeast Delhi? Our compassionate highly qualified team of radiologists and assistants have a gentle, caring manner and a feeling of family care because we keep our all empathy and care in your or one of your family member's pregnancy problems.
Diagnostic Testing in North-east Delhi, Delhi.
We are a diagnostic centre and laboratory providing clinical solutions like CT Scan, Mammography, Digital X-ray, IVP, HSG, ECG–EEG, TMT, 4D & 5D Ultrasound, PFT, All types of Blood Tests, etc. We promise quality, we deliver it. Deep Medical Centre's foremost focus has always been to maintain the highest standards in testing and hygiene, resulting in a high level of satisfaction of our more than twenty thousand patrons and being the fastest growing laboratory in Northeast Delhi.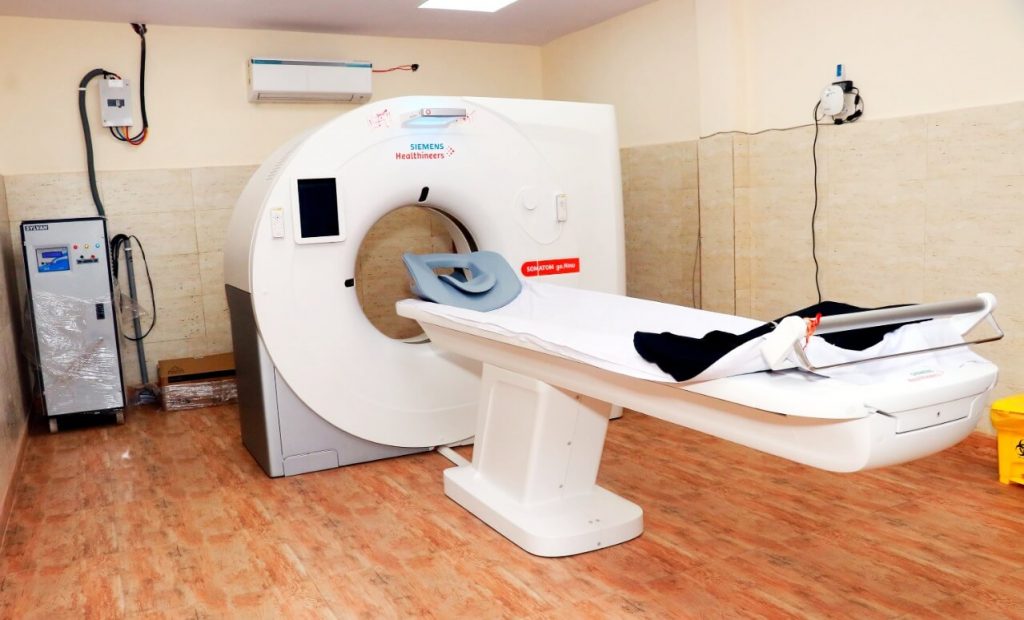 Our compassionate highly qualified team of radiologists and assistants have a gentle, caring manner and a feeling of family care because we keep our all empathy with not-so-good times that you or your family member may be going through, to require a diagnostic test.
If you have any questions about our imaging services, call Deep Medical Centre at (+91) 931-166-1446 / drop an email at contact@deepmedicalcentre.com / just click here to open the map to our physical location or request an appointment now. We wish you and your family a very healthy smiling time.
Join us on Instagram @deepmedicalcentre,